Shopping Cart
Your Cart is Empty
There was an error with PayPal
Click here to try again
Thank you for your business!
You should be receiving an order confirmation from Paypal shortly.
Exit Shopping Cart
The Venture 17 Division Of Education
THE CONSERVATORY OF MEDICAL ARTS AND SCIENCES

THE SEARCHLIGHT MESSENGER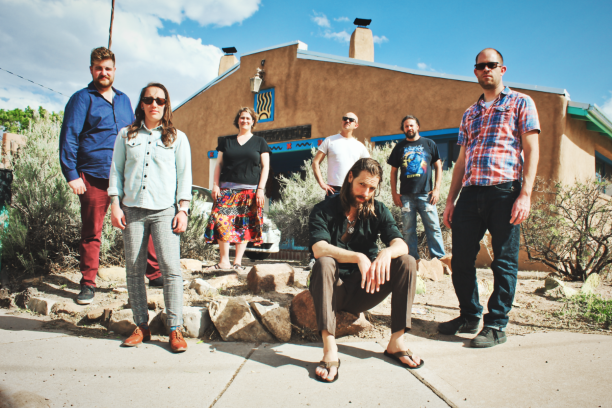 Dust City Opera is creating a new, bizarre, and fantastic record "Alien Summer" and we need your help! Join us August 2-31 for our 30-day, all-or-nothing, $20,000 Kickstarter!
Bring on the Alien Summer! Pledge. Share. Succumb.
Dust City Opera is an eccentric folk-rock orchestra from Albuquerque, New Mexico led by acclaimed singer/songwriter, Paul Hunton. Under Hunton's leadership, this eclectic ensemble, which features trombone, clarinet, and accordion, creates a uniquely southwestern sound that keeps audiences wondering what is coming next.
The rock orchestra's debut album, "Heaven," sparked a wave of media appearances and captured international attention with industry leaders, landing the band Modern Musician's 2019 Gold Artist of the Year award.
Dust City Opera's sights are focused on sustaining their independent music career by building recognition for their distinctive music on festival stages and radio stations across the country. They are currently recording their second full-length record, "Alien Summer," and have a US tour planned for the fall of 2021.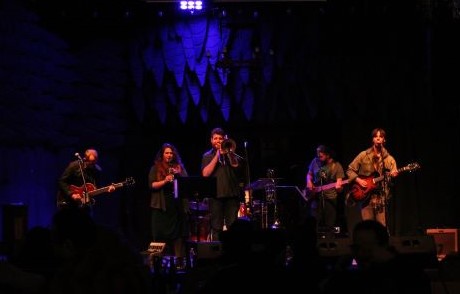 After having to adjust to the Covid Pandemic last year, many in the entertainment industry took a huge hit not being able to tour or find safe ways to record. But now, Sydney Counce, the band's manager is excited! "The band is back with enough deliciously amazing music to put together another full-length studio album--but we need your help to do it right! If you enjoy unusual arrangements and music that's outside-the-box, we think this new collection of songs we're creating for "Alien Summer" is going to blow your mind! 
In May of 2021, we had a band retreat and started crafting our long-term vision for Dust City Opera. We knew creating and completing this album had to be our next step and that we needed to go BIG. We have huge aspirations and the success of this crowdfunding campaign for "Alien Summer" will be a big leap toward the future we want as a band.
Most of the tracks are already recorded and our plan is to get the album compiled, mixed, mastered, and distributed by the end of October. We have a team ready to make it happen:
 GRAL Brothers will be adding thematics to new tracks!
 Matthew Tobias at Empty House Studio is ready to mix!
 Doug Van Sloun at Focus Mastering is ready to master!
When those steps are complete, CD Baby Manufacturing can begin pressing our CDs. They will also be coordinating the digital distribution to all major music streaming and download platforms like Apple Music, Spotify, Pandora, etc. Plus, we will be able to press vinyl for the first time ever, something that we haven't had the money to do before.
Once the album is complete, we need to promote it! Getting our music out into the world in meaningful ways, with intention, is important to us. We are looking at hiring a publicist to help us place our music in the hands of key decision-makers. We are planning an album release show to celebrate. We have hired a biographer to help us tell our story and the story behind the album. We are planning a major US tour to promote the album. We've got the plans, but we need you to help us make it happen!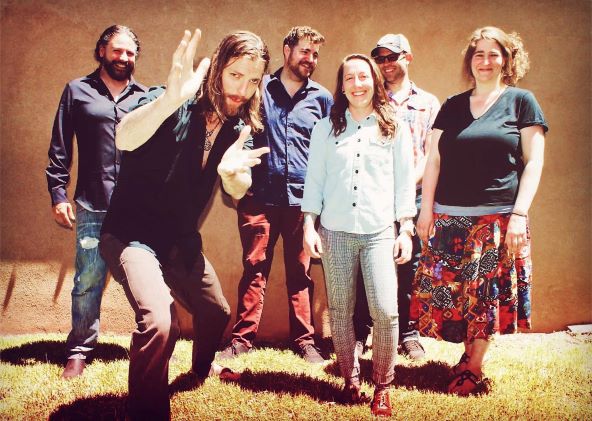 We've taken the project as far as we can with the resources we have. We cut costs by recording many components from home and designing our own album cover, and we raised some initial money to release several singles through the generosity of our friends on Patreon. Now we're ready to finish this, but we need money to complete the project the way it is meant to be--without compromise.
We need to mix, master, and distribute the full album and about 40% of our budget is dedicated to paying for those services. 30% is for physical goods, including CDs and vinyl (and the cost to ship these goods), and 20% is for promotion. The remaining budget is covering miscellaneous fees and paying each bandmate for their time and energy on this project. Yes, we believe every person working on this album deserves to be paid for their time, even us!
So much has already been invested in this project. Countless hours of arranging the music, drafting lyrics, composing layer after layer, creating this beautiful thing that never existed before. It's so close to being complete we can taste it. When you contribute to this project, you become a piece of it. You get to say, "Hey, I helped make this!" And it's because of you and people like you that we will get to share this music with people all over the world who deserve to hear it.
Everyone who contributes to the Kickstarter will get benefits and they are broken into funding levels (for example: $10 = a digital album download, $250 = VIP backstage pass, autographed merch, $7,500 = private concert) There are lots of levels and benefits to pick from."
Here is a link to the video about our campaign:
https://www.youtube.com/watch?v=nOgDRlgBzRU

Here is the link to the Kickstarter (you cannot view details until it goes live on Monday, August 2, 2021):
https://www.kickstarter.com/projects/dustcityopera/help-dust-city-opera-finish-our-next-album-alien-summer

Some ways you can help:
Go to the Kickstarter link here and click, "Notify me on launch." (If you do not have an account it will prompt you to create one.)
Pledge what you can on Monday, August 2nd. When you pledge on day 1 – it really helps the campaign's algorithm! You will not be charged until after the campaign ends and only if we meet the band's goal.
Starting Monday, August 2, 2021, share the Kickstarter link as often as you can and with as many people as you can during the 30 day campaign.
Thank you for being such great fans!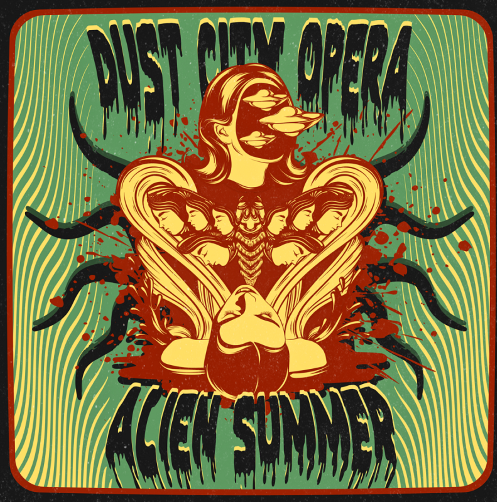 Enjoy The Alien Summer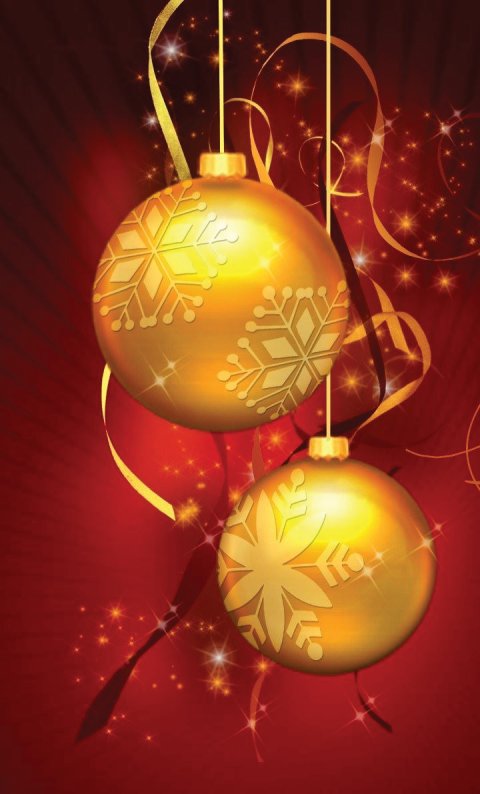 The Holidays are upon us, and many have been asking for this apple pie recipe.
Yep! It's one you should write down.

I love to bake. I remember my first effort was of all things, Pineapple Upside Down Cake. I was eleven. That I didn't kill anyone in the family, and they actually really liked it (Better Homes), I was hooked immediately.

Been a self trained chef ever since. But I had good teachers. My mother, my grandmothers, my sister, and a woman named Ingrid. All revered kitcheneers, they taught me everything. I think I have almost every possible gadget one would need in a kitchen. I have to say, I am at one of my favorite happy places when unleashed in a kitchen.

This is the tenth year I have published this recipe. So here we go again. I am asked every year to bake this pie for the holidays. What's really cool about it for me, is it has become a tradition I am proud to say continues my grandmother's legendary pie-making of 5 decades. So yeah, the family "pie making" torch was passed to Chuck. Really by chance, when you stop and realize how many chefs we have in the family.

To carry on this tradition, is a great pleasure, and totally cool that I get to do it!

This pie is one of the best pies you will ever eat! I mean, who doesn't like pie anyway? And when you get your hands on a "from scratch" killer gourmet pie, gloves are off, man!

Many ask for this recipe. A recipe that I kept secret when I first started playing around with it, but realized, this is not a recipe to be kept a secret, and should be shared with everyone. It's too much fun to make, let alone eat. So here it is. This by no means is an easy undertaking, but the result is to die for!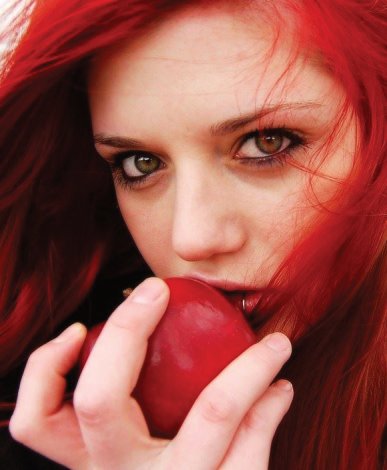 Two things about apple pie. The serious apple pie chef will use a variety of tart and sweet apples in his or her pies. This creates a blend of flavors and textures everyone looks for in a fine fruit pastry. Color is cool too, but those stunningly beautiful and expensive apples you pick out tend to look the same after they are peeled, cored, and cooked.

Apples I recommend for this pie, are the best grown in North America. They are all in season this time of year. You'll need Greening; Idared; Macoun; Cortland; Winesap; Braeburn; Jonamac; Good ol Granny Smith; and Northern Spy, in combination. If there are others you would recommend, please leave a comment for me below.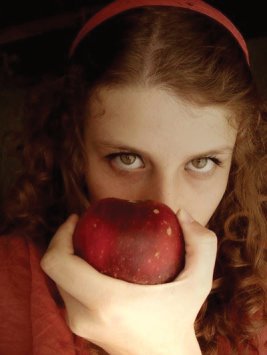 Most of the better varieties are grown in Washington and Oregon. Just like the climate of Northwest America by its nature is perfect for fine wines we love from The Napa Valley northward to Washington, it's even better for apples. They've been growing there for 300 years. Much longer than our grapes.
In the twenty-first century, it isn't difficult to get produce from anywhere. Just ask your grocer to order what you want. Any combination is fine, but mix at least 4 different types, depending on what your farmers market or grocer has. Since my "pie days" are a big thing, I use as many as possible, because I'll make 2 pies in one "pie day". Yeah, it's a long day, but a fun day.

The second thing? The crust. Crusts should be the signature on your pastries and pies. A crust will make or break a pie. You cut, peel, and core apples, then cook them, but your crust is like fine china, and must be respected at every turn when making gourmet pies.
After blending the ingredients in your crust, handle it as little as possible. That means "make it, roll it, and leave it alone". The crust in my apple pie uses no shortening. Instead, I use cream cheese. A little trick I learned from Greg Pettit. Oh yeah, Baby! You know there's Irish butter in there too! 
"Anyhow", My apple pie is a long process, as are most "from scratch" pies. This pie, when you include the shopping, is a two day but very fun baking adventure.
Shopping for these special ingredients is very fun. Take someone with you. They'll love it! Finding and selecting the apples, fresh spices, and all of the accoutrements is a blast! Shopping for food, especially on special occasions, and with a good friend, is one of those "little things" we all live for.

On baking day, let's just say, no one wants to leave the house. Your house will be filled with the smells of warm cinnamon, bread, and apples. Everything we savor about cooking and baking in the Winter. Yeah, I know!
Everyone in your house will keep hangin' around. They won't leave. It's just fun watching this piece of Kitchen Art come to literal fruition.

The aromas and flavors from the different apples waft from the kitchen throughout the whole house while rendering this dish. The crust is special, and while baking, smells awesome! And when you eat it, your palate is teased, tortured, and tantalized as the flavors and textures melt all over you. The apples, and cream cheese crust are a perfect combination for anyone's palate. You will lose yourself in this pie, and even better, everyone will want more, so make at least two pies.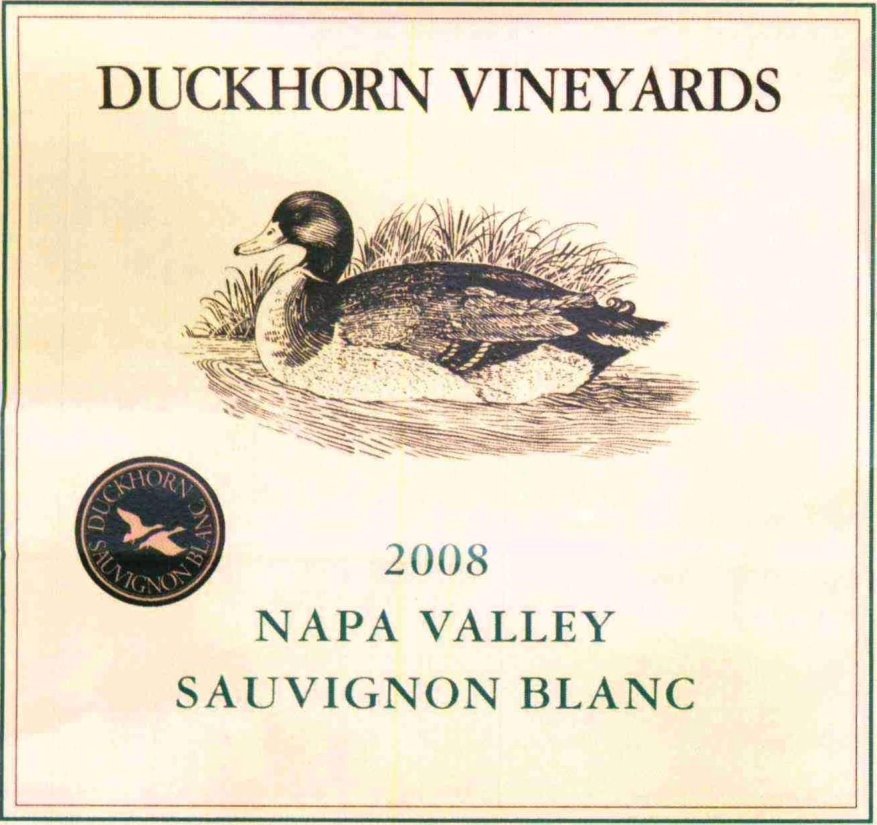 You can pair this dish with a white wine. I recommend a Sauvignon Blanc, preferably from The Duckhorn Vineyards of The Napa Valley. Yes, they are known for their "Reds", particularly their Merlots, but their "Whites" are usually special efforts, and are genuinely robust, with the tastes of fruits, including banana, peach, melon, and of course, apples on the "Finish".
Here it is. Have fun, then enjoy your good work. Keep in mind that the recipe below, is for one pie.

Ingredients:
 Pastry

1. 1 and 1/4 cups all-purpose flour, plus more for rolling
2. 1/3 cup cake flour (Softasilk® is the only brand available in Colorado Springs)

3. 2 tablespoons sugar

4. 1/4 teaspoon salt

5. 4 ounces cream cheese, chilled, the real stuff, not the low fat stuff

6. 1 stick (4 ounces) unsalted Irish butter, That's UNSALTED, cut into 1/2-inch pieces

7. 1 tablespoon ice water
8. 1 large egg yolk
9. 1 teaspoon cider vinegar
Filling
1. 4 pounds large apples (about 8)—peeled, cored and cut into eighths

2. Finely grated zest and juice of 1 lemon

3. 3/4 cup sugar, plus more for sprinkling

4. 3/4 teaspoon cinnamon

5. 1/4 teaspoon salt

6. Pinch of ground mace. Sometimes hard to find, mace is actually the ground seeds of nutmeg.
7. 1 stick (4 ounces) unsalted Irish butter

8. 1/2 cup apple cider
Directions:

1. MAKE THE PASTRY. In a large bowl, stir the all-purpose flour with the cake flour, sugar and salt. Add the cream cheese and use your fingertips to break up the cheese into the mixture until it resembles coarse meal. Cut in the butter with a pastry blender until pea-size clumps form.

2. In a small bowl, mix the ice water with the yolk and cider vinegar. Gradually add the ice water mixture, stirring with a fork. Turn the pastry out onto a lightly floured surface and press it into a 10–inch log.

Starting at the far end of the log, use the heel of your hand to quickly smear the pastry away from you, a little bit at a time. Use a pastry scraper to gather up the pastry and repeat the smearing process one more time.

Gather the pastry together. Cut off 1/3 of the pastry and pat each piece into a disk. I said pat it. Don't roll it yet. Wrap each disk in wax paper or plastic, and refrigerate for at least 30 minutes or up to 2 days.

3. MEANWHILE, MAKE THE FILLING. In a large bowl, toss the apples with the lemon juice and zest, 3/4 cup sugar, cinnamon, salt and mace. In 2 large skillets, melt the butter. Add the apples and any accumulated juices and spread them in each skillet in a single layer.

Cook the apples over moderate heat for 5 minutes, stirring occasionally, until lightly browned in spots. Add 1/4 cup of the apple cider to each skillet, cover and cook, shaking the pans occasionally, until the apples are tender, about 5 minutes. Remove the lids and let the apples cool. If the juices are not thick and syrupy, simmer uncovered for 2 to 3 minutes longer. Let cool completely.

4. On a lightly floured surface, roll out the large pastry disk to a 12-inch round. Ease the pastry into a 9-inch glass pie plate. Trim the overhang to 1/2 inch and refrigerate.

Roll out the smaller pastry disk to a rough 12-by-8-inch rectangle; trim the edges. Using a pastry or pizza cutter and a ruler as a guide, cut eight 12-by-1-inch strips. Line a baking sheet with parchment or wax paper. Weave the strips into a lattice on the baking sheet and brush the lattice with water. Sprinkle with sugar and freeze just until firm, about 10 minutes.
5. PREHEAT THE OVEN TO 375°. Fill the pie shell with the cooled apples and their juices then flatten them slightly with a spatula.

This is where people get impatient. Make sure those apples are cool, and don't try to speed it along in the refrigerator. Let them cool naturally, and at room temperature.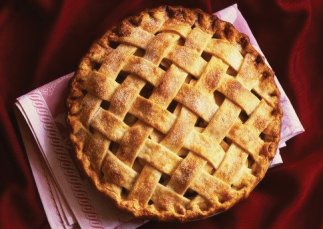 Brush the rim of the pie shell with water and slide the lattice on top. Press the edges together to seal. Trim any overhanging lattice. Fold the rim over onto itself and crimp decoratively. I use my Grandmother's "thumb and two fingers pinch".
Bake the pie for about 1 hour, until the crust is golden all over and the filling is bubbling. Cover the rim with strips of foil if they become too brown. Transfer the pie to a rack and let cool completely.

Make Ahead

The pie can be made one day ahead and kept at room temperature. You can re-warm before serving, but this pie is also good, fresh out of the refrigerator.

My pleasure. Enjoy....
Dr. Counce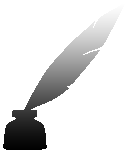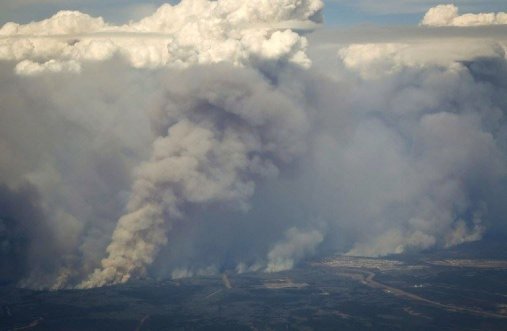 The staff of VENTURE XVII, based in Calgary, is currently volunteering with evacuation of Northern Alberta, Canada. This is getting out of control. In 2012 We were fighting the Waldo Canyon and Lake George Fires in Colorado. A year later, We were fighting the Black Forest Fire North of Colorado Springs.
The infamous Hayman Fire, rolled on us fourteen years ago, virtually killing some of the most beautiful and pristine wilderness on the backside of The Rampart Range of Colorado. Yeah, 140,000 acres of it. Then the Montana Fires of 2007. Half a million acres wiped out in two months!
But this thing. He's a killer! in just 3 days, he's already consumed over 350 square miles. Been really hard to reign him in. Fires are always our worst fear up here in the Rockies. Whether in the Yukon up North or the San Juans in the South, it's all Alpine Forest with interlacing meadows and tributaries of grasslands.
When I worked with my friends, The Chippewa Cree in Montana, they would tell me that the elders would always point out that the fires were "A Cleansing", and to respect them. They consider fires a natural part of the wilderness and as natural as the Sun rising every morning. I can't help but agree with this, but times have changed, and as Man moves deeper into our forests, more of us depend on our forests and grasslands for our survival.
The teachings of our Native American Fathers should be respected at every turn, but we are no longer nomadic people, and can't just pick up and move when a cleansing comes calling. Whole cities, transportation infrastructure, farmland, livestock, and our sources of water and food can go up in smoke overnight, turning our world upside down.
This one's going to rock our world for a while. The best professional fire fighters in the world are on it! "Film at eleven"!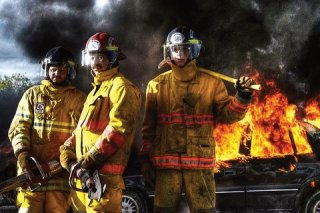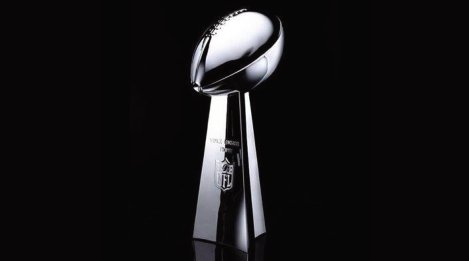 World Champions!
Yeah, those orange guys from the Rocky Mountains.
The Denver Broncos are, you guessed it.... Cam Newton's Kryptonite!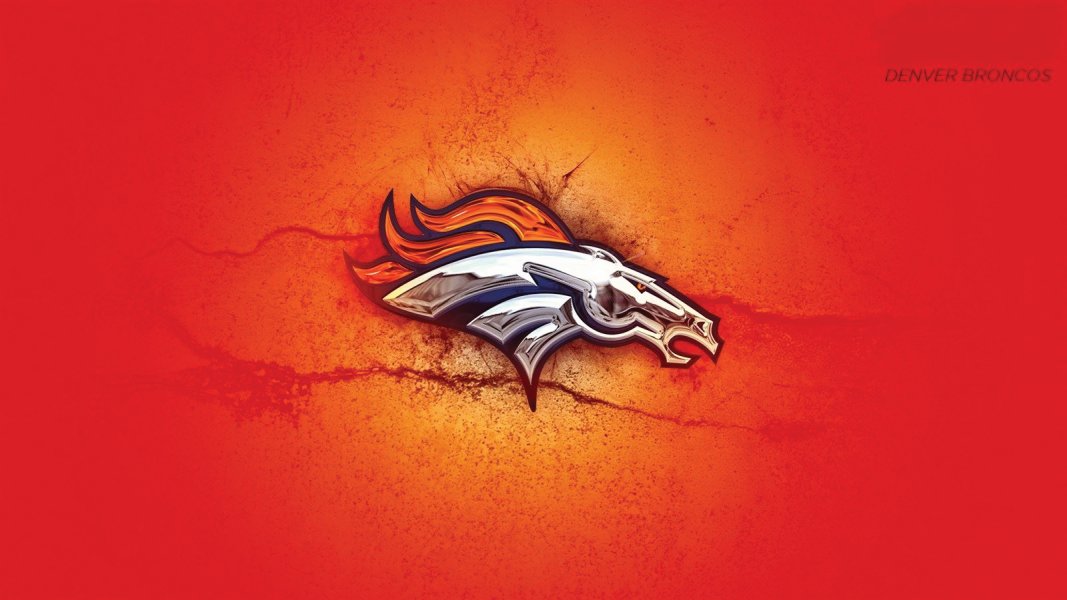 During Denver's roller coaster ride of a football season (and a fun one it was) four things remained consistent with the Super-champion Broncos: John, The Duke, Elway's leadership, Kube's Steadfast posture as an executive coach, Wade's artistry as a defensive coordinator ( Yeah! He's an Artist!) And finally, the deep talent and speed of Denver's Defense.
Remember, this season Denver shut down an up-until-then, undefeated and playoff seasoned and very mobile Aaron Rodgers (his worst game ever), and then, shut down Tom Brady...... Twice!
Why would anyone think Cam Newton could fare any better? I'm scratching my head on that so-called expert prediction.
Cam Newton has no serious playoff experience. And when faced with Superdefense, Superman, turned into, well, mush. They scared the crap out of him, then ate him for supper!
From the coaches to the players, John Elway put together the best defense the Denver Broncos have ever paraded onto a football field. Yeah, even better than the Gradishar and Louie Wright Crush Boys! Next season, they're adding an offense. Just to make things interesting.
I've been watching this team with a microscope since I was a little kid in 1965. Seen everything from Tripuka, Tensi, and the M&M Connection, to Elway, Jake the Snake, and The Sheriff.
I can remember when Hank Stram would bring the Chiefs (Lenny Dawson, Ed Podolak, Willy Lanier, and Jim Lynch) into Denver, and just beat the crap out of the Broncos, they were so bad sometimes. It seemed like they came to Denver just to rack up their stats.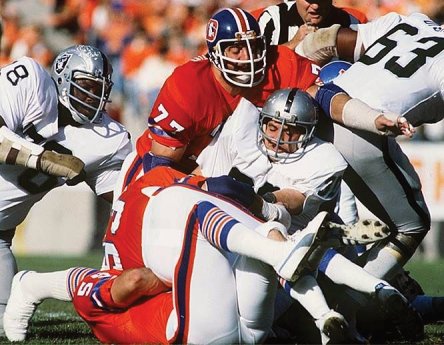 I was there at the Birth of the Raider rivalry in 1965 under
Tom Flores heaved bombs
, then got to watch the eventual reckoning the Raiders would suffer in 1977.
Oh, and who could forget the always inebriated "No Respect, Howard Cosell's" stupid foot in the mouth comments, that whole season! What a dick! Oh, yeah, "That's Right, Jackson"!
Yes! You hear me say that all the time! But the quote is actually from Don Meredith. He couldn't stand him either. If you weren't watching Monday Night Football in the Seventies, You have no idea what I'm talkin about. Too bad for you.
I have had the pleasure of watching all 10 Denver AFC Championship games. Yeah, ten! Here's one!
One of my friends, Tim, had a neighbor and friend lose it, then run across the street to his house so he could sit in his "Lucky Chair". There were only 5 minutes left in the AFC Championship game (played in the Cleveland "Dog Pound") with Cleveland leading by a touchdown. Tim and all of us just waved at him, said " Okay, buddy", then turned around to continue watching the game and biting what was left of our fingernails. Then.... Boom!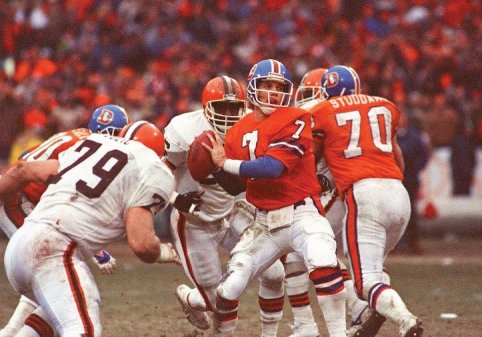 We were witness to one of the greatest playoff comeback games in NFL history. "The Drive" and it's legendary clutch third downs, exploded all over us! It was Epic, in your Face, Hostile Crowd throwing Dog Biscuits and Batteries, Mud with Blood streaked and splashed all over everybody, Duel To The Death Football! And it was The Browns fans who named it "The Drive"!
Every time I watch that 98 yard drive, I just smile. Quietly remembering..... "Lucky Chair! Lucky Chair!"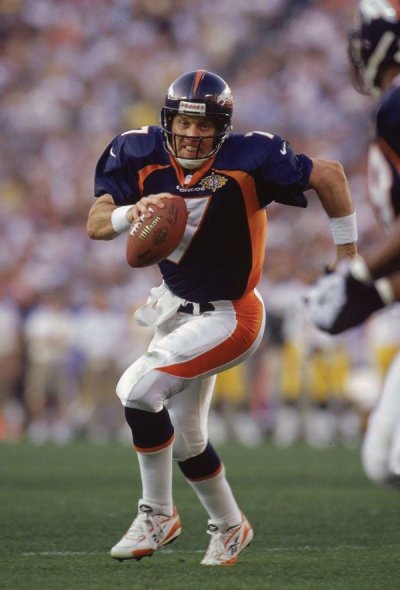 Then there's "This One's For John", which may have been the best Super Bowl ever! And I've seen damn near all of them. Another game won in the fourth quarter. Favre vs Elway! Davis vs that Green Bay Wall! They broke the NFC hold on the Championship. Yeah, the NFC had won every Super Bowl for thirteen straight years. Then the Broncos road into town. Dominated the Packers, who were picked to win by 12 points. Won the Championship! Are you kidding me?
And now this! The Coolest, most Dramatic, and even Historic Broncos season I've ever seen unfurl! And boy did it unfurl! Not only that, but SUPER BOWL 50!.... I've seen it all, man! You just Know there's going to be a movie!
Since that November day at Bears Stadium in Denver when the Broncos and Raiders became arch-enemies in front of this little kid, I've been a card carrying Broncos Fan, even though I had to endure Lou Saban "in my formidable years". Ha ha! .... You laugh!
Just ask Floyd "The Franchise" Little!
I met Little at a Howells Department Store quite by accident when I was in Junior High. I was there shopping for jeans, and I bumped into him. He was looking at suits. All I could do was talk about how great He was, and although Saban had drafted him (The only good thing that came from him), I thought Saban was a poor field tactician, and didn't use Floyd right. Little was cool! He was reassuring. But little did he know... I knew better. So did every other fan out there.
Throughout my junior high and high school years, Floyd was all we had.
Thank God for John Ralston! Everything changed after him. He was the architect who designed, drafted, then built The Orange Crush defensive unit. By the way, why isn't he on the Ring of Fame?
My how the Broncs have changed. From those really bad teams in the sixties to the "State of the Art" in professional football. The Broncos have won more games than any other team in the NFL since 1977, when they first made the playoffs with the Orange Crush. Bet you didn't know that.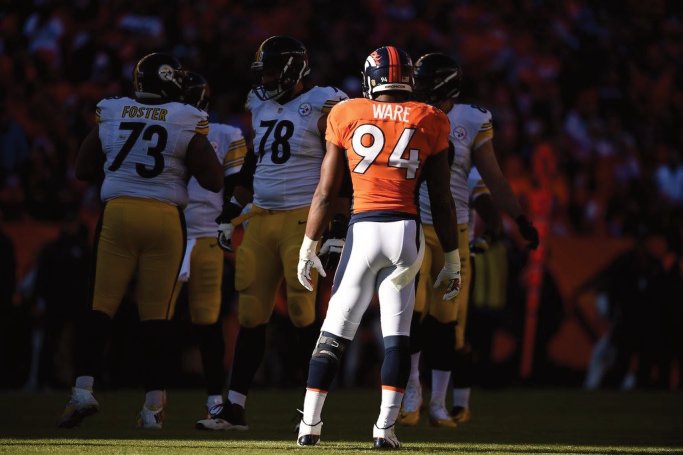 The year of the Super Defense and Giant Killers, Ladies and Gentlemen I give you, The Denver Broncos.
That's Right, Jackson! I'm a fan!
Now that was fun!
Broncos Rule!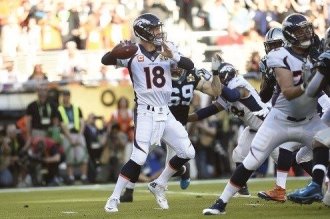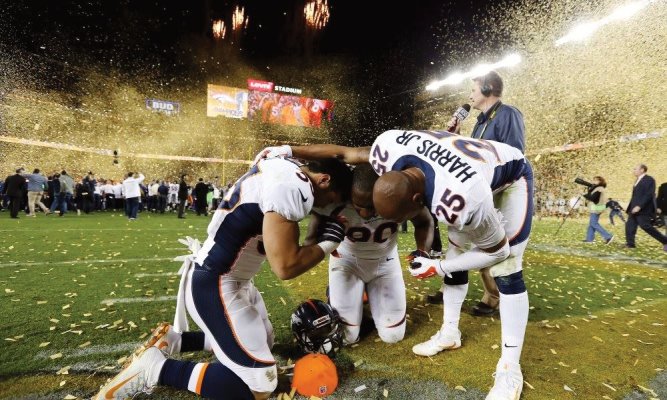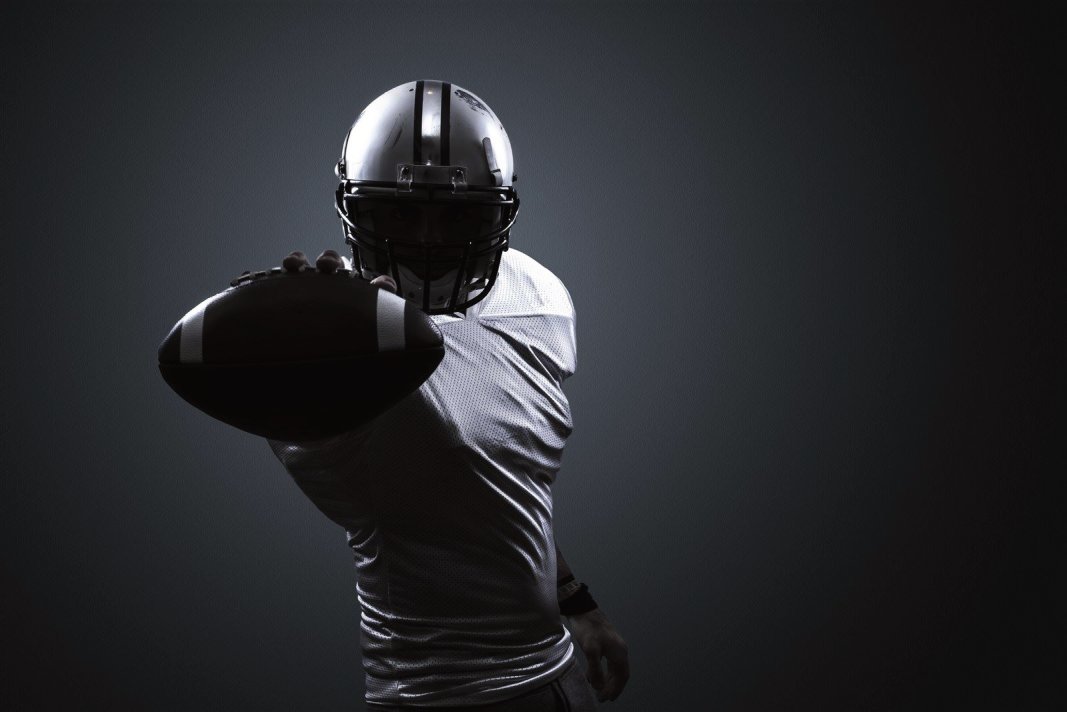 Fall approaches, and Football is upon us. A sport I am hopelessly addicted to.
The first time I saw a professional football game in person, was in 1965. My family had just moved to Denver a year earlier. I was somewhat familiar with pro ball and had watched it with Dad on Television. But we were from Nebraska, and in the Fifties and Sixties, we were watching college ball most of the time.
Dad bought two tickets to see a "very young" Denver Broncos Football Club take on the Oakland Raiders in Denver. Understand, the American Football League was only in its fifth year, but the inklings of rivalry were already present when the Raiders were in town.
Denver was a mediocre team on the field, and on the books. Generally starting seasons well, then go into skids half way through. But we had nationally known stars: Frank Tripuka, Cookie Gilchrist, Willie Brown, and Lionel Taylor.
It was a beautiful sunny November day! We got to the stadium. It wasn't the famous "Mile High Stadium" yet. The Broncos' home turf was the original Bears Stadium. Built for our New York Yankees farm team, the Denver Bears, it would later be reshaped into Mile High Stadium after a massive reconstruction, as Denver joined the National Football League when the AFL and NFL merged in 1970.
There I am with my Dad! At a ball game! Dad was great! He explained everything to me. Bought hot dogs and Royal Crown Colas (yeah! I know!). Oh, and popcorn!
The game was sold out. To this day, no other team in the NFL has had a longer sellout streak. Yeah, Denver is a football town!
Little did we know, that this game would become the foundation to the rivalry between these two young teams, and create in Denver fans, a distaste for anything "Raider", and a feeling that it is always vengeance Denver seeks. We don't want to just beat them, we want to Crush them! Period!
The Raiders have always been fierce opponents, as it should be. They were hugely successful in the old AFL and later in the NFL. Everyone who knows football, knows the legendary teams that came out of Oakland. Of all places! Have you ever been there? Yeah, I know.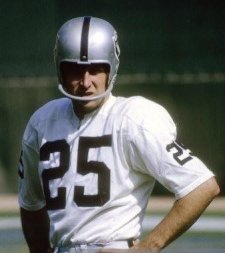 Today was no different. Future Hall of Famers: Their headcoach was the Infamous Al Davis; At quarterback was Tom Flores, who would later take two Oakland teams as headcoach to the Superbowl, and win two world championships; His backup? Daryle Lamonica, would show up next year; "The Double Ought", Jim Otto; The Ferocious, Ben Davidson, and rookie wide receiver, Fred Biletnikoff, "The Button Hooker".
Kickoff! The game starts. Dad and I are in the East Stands, one tier up, on the Southside 30 yard line. A perfect football game spot! I can't imagine what the cost of season tickets for this same area at Sports Authority Field would be today. Ginormous, I'm sure!
The teams went back and forth the first quarter. I'm eating hotdogs and drinking RC Colas. Yep! In hog heaven! Second quarter starts. Tom Flores, who establishes the Raiders legendary "Vertical Game", heaves a bomb to Clem Daniels. Boooom! It sent shutters through me! The execution and pure poetry of it was beautiful. You had to respect it, even if you didn't understand the game that well. Absolutely gorgeous pass to a tailback out of the backfield. Raiders 7 Broncos 0!
Broncs get the ball back, but sputter. The Raiders answer with a surgical drive ending with a touchdown strike by Flores again. I'm reaching for my RC. It's 14 zip! How many times have you become tachycardic with this not so unusual and apparently traditional behavior of the Broncos? That's what I'm sayin'! Denver answers right back with a well-orchestrated drive with Lionel and Cookie, finishing with a rushing touchdown.
But it wasn't Cookie! I was upset! Yeah, Wendell Hayes ran it in. Yeah, but it's 14-7. Game on! If you have ever been to a game of any kind, baseball or football, with your dad, you know exactly how I was feeling right then! A dad and his son watching a game that is unfurling before their eyes and taking on a life of its own, with 35,000 fans sitting next to us. You become hooked for life!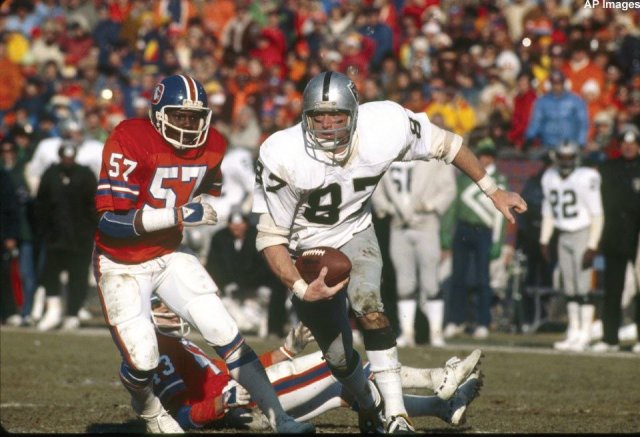 Halftime was popcorn and a marching band, having fun with Dad, and drinking RCs. And I had to pee a lot! So I got to know the concession area really well. The stadium staff started calling me by my first name. Just kidding.
Denver opens the second half with a Lionel Taylor airshow, ending with a touchdown strike to Taylor from John McCormick. Yeah, Frank wasn't there anymore. But we put him on The Ring of Fame when we built Mile High. We even retired his Jersey, number 18. I think all Denver fans know that really cool story about Frank's insistence that "Peyton" wear his number. Denver 14 Oakland 14! Oh boy! And so it starts!
The third quarter ends still tied 14/14! I have to pee! The fourth quarter starts. Yep, the first of many nail biters to come. Denver's marching down the field with a combination of Cookie built traps, and throws into the flat to Lionel, when, the "Cardiac Kids" strike again! The Raiders intercept the ball as the Broncos are moving into the red zone and run it back 70 yards for a touchdown. Wow! Raiders 21, Broncos 14. Fourth quarter. Sound familiar?
The teams exchange sputtering drives. Actually, two damn good defenses do their jobs. Denver gets the ball back. They're marching. Then McCormick throws a hondo ball into the flat where a post coming out of the right seam was supposed to materialize, and it's intercepted. You guessed it! Raiders run it back for a touchdown. Raiders 28 Broncos 14. Nobody leaves! Denver gets the ball back with only three minutes left. McCormick is replaced by Jackie Lee.
Known to have flashes of brilliance (I wonder if that's because he wore Number 7), Lee is a good quarterback. He stands tall in the saddle, and a master of the step up when a throwing pocket collapses. Lee takes his opportunity and marches Cookie, Lionel, and the Broncos down the field. We're running out of time! We need two scores! Everybody's standing! I'm standing on my seat! 35,000 fans chanting "Broncos"!
Jackie hits Lionel in the end zone for a touchdown!
It's absolute bedlam in the stadium! People jumping up and down, stuff flyin' everywhere! Popcorn all over the place. I have to pee! I look up at Dad! He looks down at me! We just smiled at each other! Then turned our heads back to the field of battle. The smell of beer, and cola all over the place! Yeah! I know!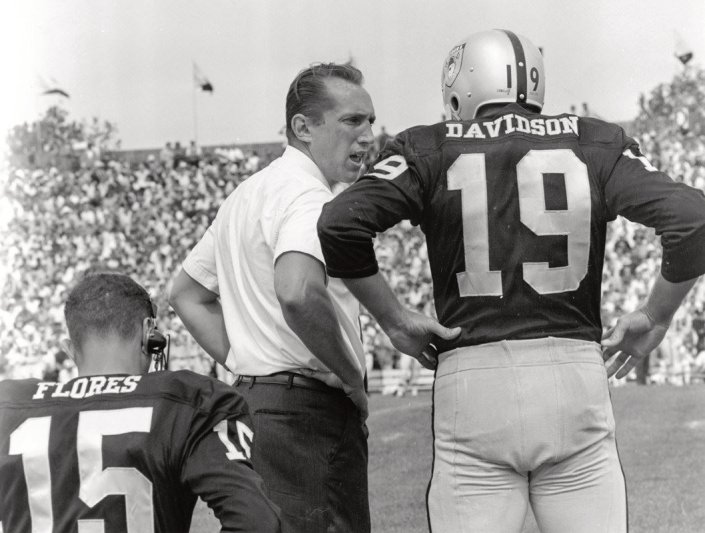 Coach Speedie (yeah that's his name), was known for his out of the box style and on field gambles. Here we go again. Rather than to kick a point after, he elects to go for 2, because he doesn't want a tie, Mac Speedie wants to win. Remember, the NFL didn't have the 2 point conversion then, but the AFL did.
It's a roll out! Jackie throws. Whenever I think about it, it's always in slow motion. The stadium seemed silent forever to me, this little kid.
A lasting and realistic picture of "The Underdog" was forever imprinted on me. That's right. You knew it! The receiver dropped it! Oh my God!
Raiders 28 Broncos 20 hit hard. Eerily, another primer of famous even legendary games to come.
Wait! .... Wut? .... It's not over! .... Everyone is still in their seat, and now standing! Mac has called an onside kick! Are you kidding me? …….. The Broncs kick! ……. They recover the ball! Oh my God! ……. And here it comes……. It's too late!
 Wut? .... Yep! The clock expired! The game is over! .... Wow! ....  The crowd just stood there, silent!
I didn't care about the loss. That sting would hit me later. This was a day I would always remember!
The emotions that wash over us as sports fans! The anticipation! The elation! The heartbreak! The smells! The sounds! The mass of faces before you, all working as one! Asking for "Just One More Inch……. Please"! ……. The game you'll never forget! I have to pee!
A rivalry is born! I'm hooked on the Broncos for the rest of my life! I have the best Dad in the world!
Fifty years ago! That's how long I have been a fan of the Denver Broncos. You heartbreakers you! Just have fun, okay? But beat the shit out of the Raiders. I mean it!  Period! Thank you.
GO BRONCOS!!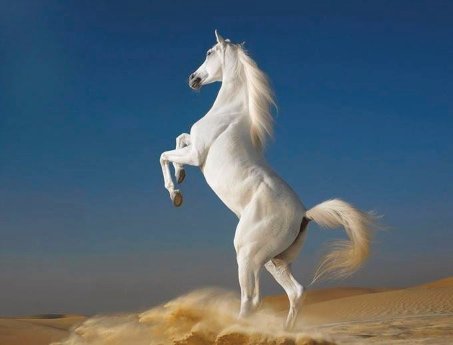 Our developer lost over a year of blog and comments during a technical glitch. We are currently restoring them, however, they will not have the original comments. Our apologies.
Dr. Counce
/