Shopping Cart
Your Cart is Empty
There was an error with PayPal
Click here to try again
Thank you for your business!
You should be receiving an order confirmation from Paypal shortly.
Exit Shopping Cart
The Venture 17 Division Of Education
THE CONSERVATORY OF MEDICAL ARTS AND SCIENCES

THE SEARCHLIGHT MESSENGER
| | |
| --- | --- |
| Posted on September 12, 2015 at 7:24 PM | |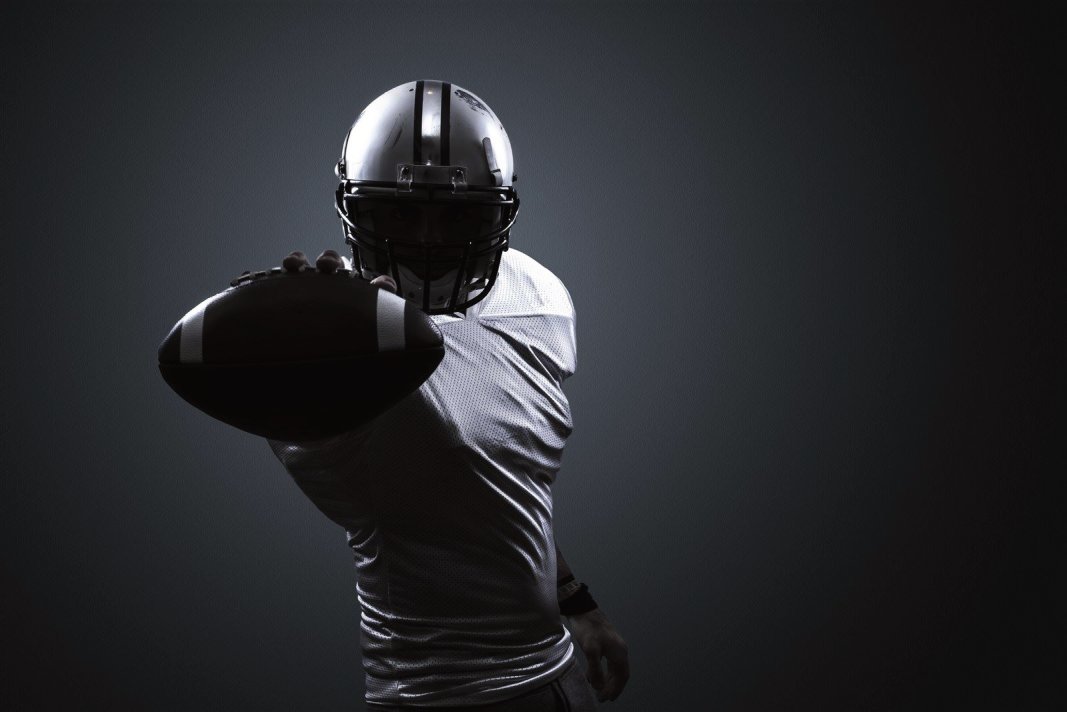 Fall approaches, and Football is upon us. A sport I am hopelessly addicted to.
The first time I saw a professional football game in person, was in 1965. My family had just moved to Denver a year earlier. I was somewhat familiar with pro ball and had watched it with Dad on Television. But we were from Nebraska, and in the Fifties and Sixties, we were watching college ball most of the time.
Dad bought two tickets to see a "very young" Denver Broncos Football Club take on the Oakland Raiders in Denver. Understand, the American Football League was only in its fifth year, but the inklings of rivalry were already present when the Raiders were in town.
Denver was a mediocre team on the field, and on the books. Generally starting seasons well, then go into skids half way through. But we had nationally known stars: Frank Tripuka, Cookie Gilchrist, Willie Brown, and Lionel Taylor.
It was a beautiful sunny November day! We got to the stadium. It wasn't the famous "Mile High Stadium" yet. The Broncos' home turf was the original Bears Stadium. Built for our New York Yankees farm team, the Denver Bears, it would later be reshaped into Mile High Stadium after a massive reconstruction, as Denver joined the National Football League when the AFL and NFL merged in 1970.
There I am with my Dad! At a ball game! Dad was great! He explained everything to me. Bought hot dogs and Royal Crown Colas (yeah! I know!). Oh, and popcorn!
The game was sold out. To this day, no other team in the NFL has had a longer sellout streak. Yeah, Denver is a football town!
Little did we know, that this game would become the foundation to the rivalry between these two young teams, and create in Denver fans, a distaste for anything "Raider", and a feeling that it is always vengeance Denver seeks. We don't want to just beat them, we want to Crush them! Period!
The Raiders have always been fierce opponents, as it should be. They were hugely successful in the old AFL and later in the NFL. Everyone who knows football, knows the legendary teams that came out of Oakland. Of all places! Have you ever been there? Yeah, I know.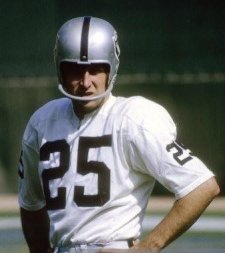 Today was no different. Future Hall of Famers: Their headcoach was the Infamous Al Davis; At quarterback was Tom Flores, who would later take two Oakland teams as headcoach to the Superbowl, and win two world championships; His backup? Daryle Lamonica, would show up next year; "The Double Ought", Jim Otto; The Ferocious, Ben Davidson, and rookie wide receiver, Fred Biletnikoff, "The Button Hooker".
Kickoff! The game starts. Dad and I are in the East Stands, one tier up, on the Southside 30 yard line. A perfect football game spot! I can't imagine what the cost of season tickets for this same area at Sports Authority Field would be today. Ginormous, I'm sure!
The teams went back and forth the first quarter. I'm eating hotdogs and drinking RC Colas. Yep! In hog heaven! Second quarter starts. Tom Flores, who establishes the Raiders legendary "Vertical Game", heaves a bomb to Clem Daniels. Boooom! It sent shutters through me! The execution and pure poetry of it was beautiful. You had to respect it, even if you didn't understand the game that well. Absolutely gorgeous pass to a tailback out of the backfield. Raiders 7 Broncos 0!
Broncs get the ball back, but sputter. The Raiders answer with a surgical drive ending with a touchdown strike by Flores again. I'm reaching for my RC. It's 14 zip! How many times have you become tachycardic with this not so unusual and apparently traditional behavior of the Broncos? That's what I'm sayin'! Denver answers right back with a well-orchestrated drive with Lionel and Cookie, finishing with a rushing touchdown.
But it wasn't Cookie! I was upset! Yeah, Wendell Hayes ran it in. Yeah, but it's 14-7. Game on! If you have ever been to a game of any kind, baseball or football, with your dad, you know exactly how I was feeling right then! A dad and his son watching a game that is unfurling before their eyes and taking on a life of its own, with 35,000 fans sitting next to us. You become hooked for life!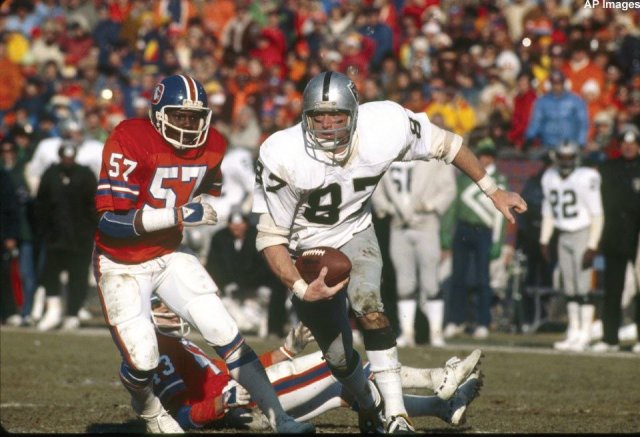 Halftime was popcorn and a marching band, having fun with Dad, and drinking RCs. And I had to pee a lot! So I got to know the concession area really well. The stadium staff started calling me by my first name. Just kidding.
Denver opens the second half with a Lionel Taylor airshow, ending with a touchdown strike to Taylor from John McCormick. Yeah, Frank wasn't there anymore. But we put him on The Ring of Fame when we built Mile High. We even retired his Jersey, number 18. I think all Denver fans know that really cool story about Frank's insistence that "Peyton" wear his number. Denver 14 Oakland 14! Oh boy! And so it starts!
The third quarter ends still tied 14/14! I have to pee! The fourth quarter starts. Yep, the first of many nail biters to come. Denver's marching down the field with a combination of Cookie built traps, and throws into the flat to Lionel, when, the "Cardiac Kids" strike again! The Raiders intercept the ball as the Broncos are moving into the red zone and run it back 70 yards for a touchdown. Wow! Raiders 21, Broncos 14. Fourth quarter. Sound familiar?
The teams exchange sputtering drives. Actually, two damn good defenses do their jobs. Denver gets the ball back. They're marching. Then McCormick throws a hondo ball into the flat where a post coming out of the right seam was supposed to materialize, and it's intercepted. You guessed it! Raiders run it back for a touchdown. Raiders 28 Broncos 14. Nobody leaves! Denver gets the ball back with only three minutes left. McCormick is replaced by Jackie Lee.
Known to have flashes of brilliance (I wonder if that's because he wore Number 7), Lee is a good quarterback. He stands tall in the saddle, and a master of the step up when a throwing pocket collapses. Lee takes his opportunity and marches Cookie, Lionel, and the Broncos down the field. We're running out of time! We need two scores! Everybody's standing! I'm standing on my seat! 35,000 fans chanting "Broncos"!
Jackie hits Lionel in the end zone for a touchdown!
It's absolute bedlam in the stadium! People jumping up and down, stuff flyin' everywhere! Popcorn all over the place. I have to pee! I look up at Dad! He looks down at me! We just smiled at each other! Then turned our heads back to the field of battle. The smell of beer, and cola all over the place! Yeah! I know!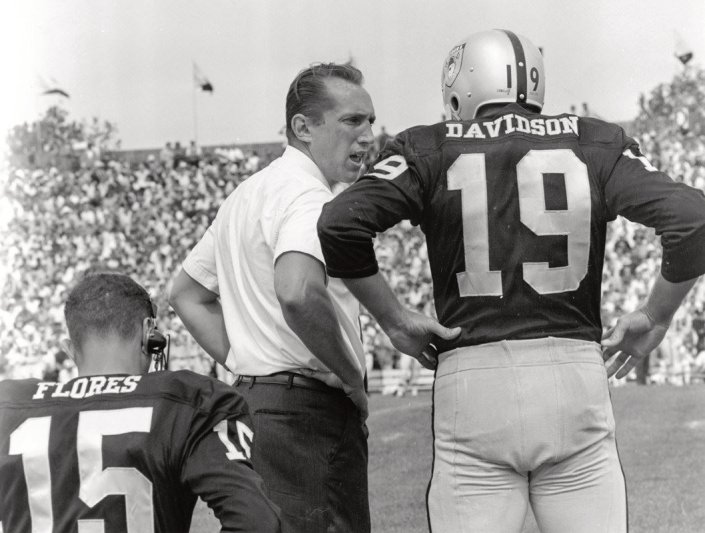 Coach Speedie (yeah that's his name), was known for his out of the box style and on field gambles. Here we go again. Rather than to kick a point after, he elects to go for 2, because he doesn't want a tie, Mac Speedie wants to win. Remember, the NFL didn't have the 2 point conversion then, but the AFL did.
It's a roll out! Jackie throws. Whenever I think about it, it's always in slow motion. The stadium seemed silent forever to me, this little kid.
A lasting and realistic picture of "The Underdog" was forever imprinted on me. That's right. You knew it! The receiver dropped it! Oh my God!
Raiders 28 Broncos 20 hit hard. Eerily, another primer of famous even legendary games to come.
Wait! .... Wut? .... It's not over! .... Everyone is still in their seat, and now standing! Mac has called an onside kick! Are you kidding me? …….. The Broncs kick! ……. They recover the ball! Oh my God! ……. And here it comes……. It's too late!
 Wut? .... Yep! The clock expired! The game is over! .... Wow! ....  The crowd just stood there, silent!
I didn't care about the loss. That sting would hit me later. This was a day I would always remember!
The emotions that wash over us as sports fans! The anticipation! The elation! The heartbreak! The smells! The sounds! The mass of faces before you, all working as one! Asking for "Just One More Inch……. Please"! ……. The game you'll never forget! I have to pee!
A rivalry is born! I'm hooked on the Broncos for the rest of my life! I have the best Dad in the world!
Fifty years ago! That's how long I have been a fan of the Denver Broncos. You heartbreakers you! Just have fun, okay? But beat the shit out of the Raiders. I mean it!  Period! Thank you.
GO BRONCOS!!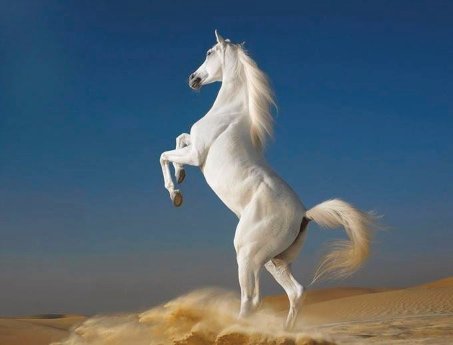 Categories: Social Comment, Special Post
/